Sunday, July 02, 2006
7/02/2006 10:49:00 PM

Article submitted by Lixia:
Went Kayaking with darling, sis & 2 other friends we knew from the one-star kayaking course. It was a totally fun day except for the little shouting match that me & darling had during midday... -_-"


I really hate it when I perceive a guy to be so chauvanistic always wanting his way. Then well, when this happens the egoistic me will usually not give way &

PURPOSELY

do the opposite.

Just like in this case, we had alittle difference in the place we wanted to kayak to. Darling thinks that I am not good enough to go further out but I think that I was quite fine. So this leads to the little war between us.. -_-"

But after having my way I sorta regreted abit coz the wave there is indeed rather strong & scary. Haiz, blame on my stubborness? -_-"

But I must say that this is still a great practice for me as after 2 rounds of kayaking in that area I find it more shiok than scary. Hmm..that is at least so before I start to capsize..Wahaha~! =P

Anyway managed to take some pics that's why I ended up being the slowest in the whole group.. =P


Such a nice place to live in. My dream home~! =P

The skyline of the Central Business District of S'pore from Kallang Basin. Beautiful...



The Benjamin Sheares Bridge, where the waves rock me.. -_-"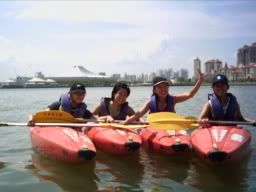 (From left) Pin Jie, Pamela, Me & Sis.. =)
A rare pic of sis posing for the cam.. =P
Darling, the unofficial instructor of the group.. =)
Decomposed fish on the shore, with eye balls missing.. *pukes*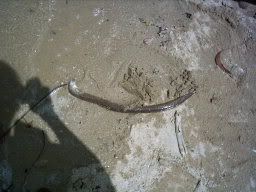 Dead snake with rotten tongue sticking out & throat dug hollow.. *faints*