Tuesday, October 10, 2006
10/10/2006 10:45:00 PM

Article Submitted by Eddy:
Its been some time since I written here, but well it's due to my busy training. Now that I'm free I'll write some updates on myself.

05 Sep

Graduated from Leadership BMT(finally) and was given 2 weeks rest.

01 oct
Our 1 year anniversary together! We had our little celebration with a meal together. Although small it was a very memorable one. Not ony because it was a meal together, but it marks our many months (a year) together!

Although we've been through alot of quibbles and disagreements, we still loved each other alot!

Thank you darling for your love for me!

The rest is all much not important, or rather routine in some sense.


Something to add...

I have this: =D

Both are very stoned tikus...like me!

Anyway one of the days when I was on the MRT there was a really bad and memorable exprience... Let me explain with the situation in Paint picture: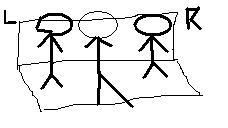 I was sitting on the middle of this 2 guys on the MRT. Apparently there is an different issue with this two persons.

On my left there's a guy who had really bad breath (halitosis) and body odor, and on the right the guy kept dozing off. I personally have no issue on anyone dozing off on the train, but this guy kept dozing off on me, and that's the issue. The thing is , he didn't even realize it!
Well I moved forward on my seat and he slept right thru behind me, hitting the "halitosis" guy...I pretty much laughed to myself after that.

But as for the "halitosis" guy, how did i know that it is him and not me? =S

He alighted at Jurong East station and the smell followed him right through the door. The air was clear after that.

Well , so much for a train ride.. I'll write again soon . =D